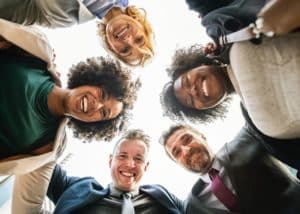 Does networking fill you with dread?
Do you avoid networking?
Would you like to build your confidence to network?
There is a real power of connecting with others to build relationships and further develop your business, however for many this can stop people in their tracks.
Surrounding yourself with powerful and inspiring people will build your confidence and your success.
Everyone needs a network, whether it be your personal or professional network, so take a look at these top tips towards building your confidence.
You may have noticed that many powerful people surround themselves with brilliant people that support them in achieving their goals and dreams which can accelerate their achievements, so take some time to plan your networking to find your support team.
Top Tips
Be yourself. Let people see the real you.  You are unique and brilliant with lots of skills and experience.  Of course, this might be scary at first, however the only way to learn and build that confidence is to tiptoe out of your comfort zone and lean into your growth.  No one is perfect and everyone struggles at times in walking into a room full of people, however I can promise you that you are not alone in your feelings.  Go in and own your imperfections and be you – people will love that you are being authentic.
Clear goals. Take a moment to prepare for the networking and set yourself a clear goal of why you are attending or what you want to gain from this event.  Having a clear idea of why you are doing it, will make it easier and you can measure your success when you achieve it which in turn builds your confidence.
Connections. Plan who you might want to connect with before you arrive. Think about who might support your journey, who might you already know there that can be your cheerleader, or maybe identify where your gaps are in your network?  These are key questions to ensure you are targeting the right people and you maximise the opportunity.   Start with a small group of those that will support you, stretch you, teach you, before you grow your network bigger.
What do I say? This can often stop people from attending networking events – what if I have to ask questions!  We have all experienced a "sales" pitch versus an authentic connection and you'll know yourself that someone being genuinely curious about you, makes a far more enjoyable and memorable conversation.  To make a real connection with someone, be curious about them, care about them, listen to them (really listen to them!) and respond in a genuine way.  Focus on them rather than what's in it for you.
In many situations where I might be less comfortable, I ask myself "what's the worst that can happen?".  Answering this question ensures I am prepared and I can say to myself "I am going to be OK" and then reflecting after the event allows me to learn from any mistakes to ensure I am better next time.
We have many opportunities in life to make great connections that will help us achieve our goals, so take these tips and start to take small steps in growing your confidence in networking and if you would like more support with this, do get in touch with me kathryn@kathrynjacksoncoacing.co.uk