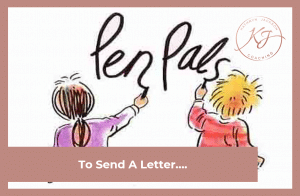 I don't about you, but I used to love having a pen pal when I was a youngster and the anticipation of the next letter arriving.
Whilst we are now living in a very different world with technology and the various on line Apps that connect us across the world, I think there is a lot to be said for writing letters to one another.
Here are some of the benefits that I believe still exist and maybe even more so now given the challenging times we face living in lock down – maybe not just for our children but as adults as well.
• Letter writing encourages us to have deeper connections and be ourselves
• Builds patience when we have to wait for the letter to arrive
• Opens our perspective as to how others live, not just in this country but across the world
• Gives us plenty of fun reading the letters we get
• Provides lots of writing practice for children
• An opportunity to reach out to someone
• Plus, at these times, it gives a memorable activity whilst in lock down!
How to get the kids started…
Find a pen pal – for children this maybe someone they are missing from school or as an adult there are various websites that offer connections at any age.
Writing your first letter – remind the children to be themselves!  Their pen pal wants to know about YOU, your family, your interests and any interesting things you are doing.
Ask questions – don't forget to find out about them and learn all you can about the other person. You never know you may learn something new that you can try.
Keep it going – agree with your pen pal how often you will keep in touch and then do your best to stick to the schedule.
At times like this, as we continue to be in lock down due to Covid-10, we may seek alternative things to do and writing letters and exploring other people's world may teach us something, as a child or even as an adult!
This may not be for you, however if you know someone who may benefit from a pen pal, please share these tips or perhaps gather up some of the school mums/dads and share addresses for the children to write to each other.
"To send a letter is a good way to go somewhere without moving anything but your heart" – Phyllis |Theroux