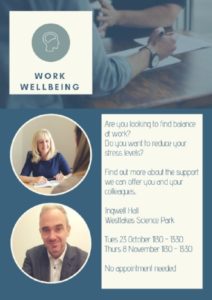 Are you looking to find balance at work?
Do you want to reduce your stress levels?
I often work with people that describe their lives (particularly at work) as "being stuck on a treadmill" or "running on fumes". When we feel like this our stress levels increase and this can affect our wellbeing.
Coming to Cumbria in October & November.
Nick Scott and I will be available to chat to you about an independent support that aims to improve your work wellbeing.
Please drop by to chat with us about how you may want to be supported at work and find out more about work balance, self-awareness, stress management, reflection and personal development.
We look forward to welcoming you on the following dates at Westlakes Science Park, Whitehaven:
Tuesday 23 October 2018 @ 11:30 – 13:30
Thursday 8 November 2018 @ 11:30 – 13:30
These events are being supported by BEC, Whitehaven, Cumbria