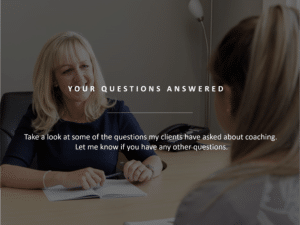 Do you have questions about coaching? Here are just a few of the questions I get asked by new clients – I hope this is helpful. Of course, if you have others then please get in touch.
What is coaching?
Coaching is a form of development in which a coach supports you in achieving specific personal or professional goals.
What topics can you support me on?
Coaching can support topics such as excelling in your career, becoming happy and fulfilled in your home life, and exploring your ambitions.
What happens in one of your coaching sessions?
Coaching sessions typically last between 45-60 minutes. During our session I will ask a number of questions to explore what you want from life, what you want more of or less of. Whilst I will support you it will be an opportunity for you to reflect on ideas to help you move forward. The discussions will be conducted in a confidential and safe environment with no pressure on you to make decisions you aren't comfortable with. We will work in partnership, exploring ideas and celebrating your successes.
How many coaching sessions will I need?
You can have as many as you want. Coaching can easily fit around your schedule and can be conducted in person or over the phone or internet. Some clients sign up to coaching every month and some every other week depending on their goals and action plans and the level of support their require. Coaching is entirely flexible and this would be discussed on our first consultation.
How much does coaching cost?
Professionally trained coaches will charge in line with other highly trained professionals. The cost is based on a number of factors including whether coaching is conducted in person or over the phone or internet. I tend to offer a package basis which is more cost effective for you and this would be discussed at our initial (free) consultation when I have a better idea of your situation and goals. One of the benefits of coaching is that over time it creates sustainable change so making the initial investment is worth doing.